WPP shares slide on Sir Martin Sorrell's exit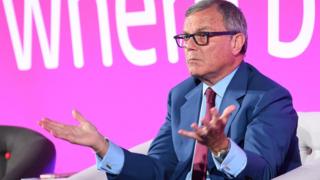 Shares in WPP have fallen by 5.5% following the departure of chief executive Sir Martin Sorrell and as the advertising giant began a search for his replacement.
WPP announced late on Saturday night that Sir Martin, who has led the company for 33 years, would step down.
Despite his exit, he could still make £20m from WPP shares over five years.
While Sir Martin gets no payoff or pension, he is entitled to share bonus awards.
The maximum number of shares Sir Martin may be awarded if WPP meets certain targets is 1.65 million.
They are worth about £19m.
Sir Martin and his family own about 2% of the company – a stake worth about £300m.
After peaking at almost £19 in February 2017, WPP shares have since fallen sharply and were trading at £11.23 on Monday.
Sir Martin stepped down after it emerged that WPP was investigating an allegation of misconduct against him.
At the weekend, WPP said that the investigation had concluded, adding: "The allegation did not involve amounts that are material."
The company does not intend to publish a report detailing its findings.
Commenting on the decision to end the probe, Paul Richards, director in media research at Numis Securities, said: "Everyone is looking to move forward. It is an ignominious end to a remarkable career.
"Perhaps the report would have cleared his name. As Sir Martin said, he rejected the allegation 'unreservedly'."
Some analysts believe WPP, which comprises about 400 separate businesses, including Ogilvy & Mather, Kantar Group, Hogarth Worldwide and Young & Rubicam, could be broken up.
Alex deGroote, at Cenkos Securities, said divisions such as Kantar, a market research business, could be sold and be worth as much as £3.5bn.
Marc Mendoza, founder of 360 Degree Media, told BBC Radio 4's Today programme a sell-off was inevitable.
"When you're that strong a personality leader within that field and you command such loyalty – a little bit of fear with it as well – you're impossible to replace with one individual, so the parts must be sold off now to create value for shareholders."
Meanwhile, the Financial Times reported that the 73-year-old is free to start a rival company because he never had a non-compete agreement, according to WPP insiders.
Roberto Quarta will become WPP's executive chairman and Mark Read, the boss of WPP Digital and Andrew Scott, the chief operating officer for Europe have been appointed as joint chief operating officers.
In March WPP reported its weakest annual results since the financial crisis, with Sir Martin describing 2017 as "not a pretty year" for the company even though pre-tax profits were just over £2bn.
Brian Wieser, a senior analyst at Pivotal, told Today that it is unlikely that we will find out exactly why Sir Martin was being investigated.
"A lot of people will want to know what it was, just because a lot of people do know Sir Martin, but at a pragmatic business level, it's more about who's going to succeed him, what's the shape of the company," he said.
Mr Wieser said that the advertising industry as a whole had been hit hard by "package-based marketers" seeking to "cut costs aggressively".
He said: "WPP's been hit harder than most – they had some unusually large account losses. AT&T was one, Volkswagen was another. But there is nothing that far away from the overall industry average that was affecting WPP at the time."