Syria 'chemical attack': OPCW investigators to be allowed into Douma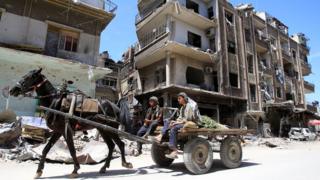 The Organisation for the Prohibition of Chemical Weapons will be given access to an alleged chemical attack site in Syria on Wednesday, Russia says.
Experts arrived in Damascus on Saturday, but they have been unable to visit the nearby town of Douma because of "security issues" cited by Russia.
US officials have raised concerns that Russia, the Syrian government's ally, might have tampered with the site.
The government insists the incident in Douma on 7 April was fabricated.
Opposition activists, medical organisations and rescue workers say more than 40 people were killed when aircraft dropped barrel bombs filled with toxic chemicals on the town while it was still held by rebel forces.
The US, UK and France say that, based on open source information and their own intelligence, they are confident chlorine and possibly a nerve agent were used.
On Saturday, they carried out missile strikes on three targets they said were "specifically associated with the Syrian regime's chemical weapons programme".
Russian and Syrian officials had cited "pending security issues" for not allowing while inspectors from the OPCW to travel to the site of the alleged attack, the global watchdog's director general said on Monday.
Syrian authorities had instead offered the inspectors the chance to interview 22 people who they said were at the location of the alleged attack and could be brought to Damascus for interviews, according to Ahmet Uzumcu.
If the OPCW inspectors are able to travel to Douma on Wednesday, it will have been 11 days since the attack. They are expected to gather soil and other samples to help identify any chemicals that might have been used.
US ambassador Kenneth Ward said at an OPCW meeting at The Hague on Monday that there were fears that Russian forces had tampered with the site after the last rebel fighters were evacuated last week, Reuters news agency reported.
"It is our understanding the Russians may have visited the attack site," Mr Ward was quoted as saying. "It is our concern that they may have tampered with it with the intent of thwarting the efforts of the OPCW Fact-Finding Mission to conduct an effective investigation."
Russia's Foreign Minister, Sergei Lavrov, denied any interference. "I can guarantee that Russia has not tampered with the site," he told the BBC.
He said the allegations of chemical weapons use were "based on media reports and social media" and that the incident was "staged".
The Syrian government denies ever having used chemical weapons.
However, experts from the UN and the OPCW have ascribed four chemical attacks to the government during the civil war, including an attack on the rebel-held town of Khan Sheikhoun in April 2017 that involved the nerve agent Sarin.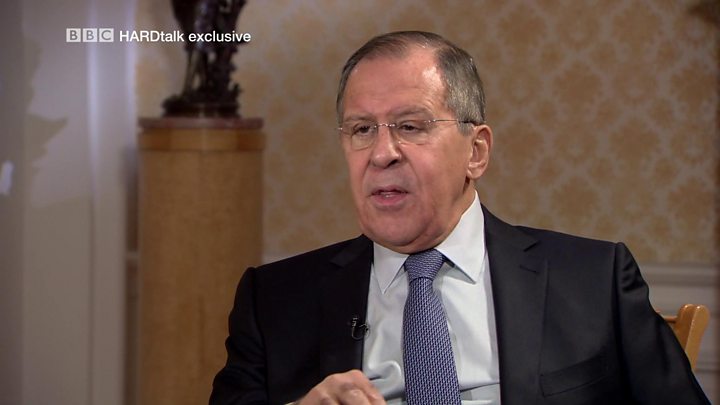 A correspondent for US network CBS gained access to the alleged attack site in Douma on Monday. Seth Doane spoke to residents of a building where at least 30 bodies are reported to have been found.
"All of a sudden some gas spread around us," one man said. "We couldn't breathe, it smelled like chlorine."
Another resident, who said many members of his family were among those killed, showed the CBS crew a yellow compressed gas canister that appeared to have punched a hole in the roof of the building. The canister looked similar to others photographed in the wake of other alleged chlorine attacks.
A Swedish journalist who also visited the building in Douma said he felt a discomfort in his throat and smelled a strong odour as he entered its basement.
What is said to have happened in Douma?
When the suspected chemical attack took place, Douma was the last rebel-held town in the Eastern Ghouta region outside Damascus.
Thousands of people were sheltering from the government's bombardment in basements, when bombs filled with chemicals were allegedly dropped several hours apart on two locations.
The World Health Organization said that according to reports from its medical partners in Douma, an estimated 500 patients presented to health facilities exhibiting signs and symptoms consistent with exposure to toxic chemicals.
There were signs of severe irritation of mucous membranes, respiratory failure and disruption to central nervous systems of those exposed, it added.
More than 70 people sheltering in basements reportedly died, with 43 of those deaths related to symptoms consistent with exposure to highly toxic chemicals, the WHO said.
Catch up on the aftermath of the air strikes
Military response
Late on Friday night in Washington, President Donald Trump announced that he had authorised strikes against Syrian military targets, in co-ordination with the UK and France.
The US military said 105 missiles were launched, and claimed the strikes had set back Syria's alleged chemical weapons programme by years.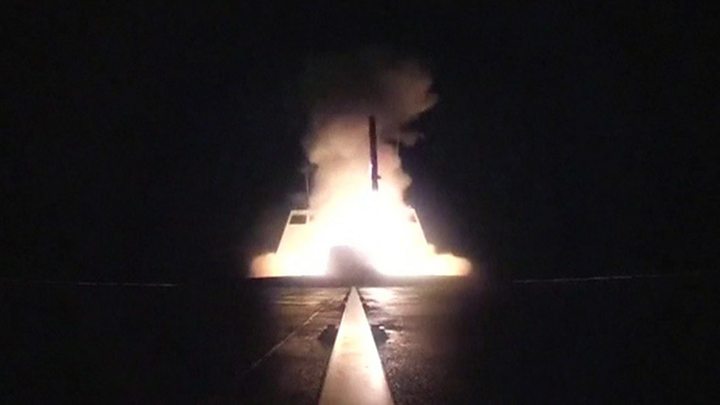 Russia said 71 of the missiles were shot down by Syrian air defence systems.
One of the three sites hit was a branch of the Scientific Studies and Research Centre (SSRC) in the capital's Barzeh district, which the US said was a "centre for the research, development, production and testing of chemical and biological warfare technology".
The other two were suspected chemical weapons storage facilities at Him Shinshar, west of the city of Homs.
Nikki Haley, the US permanent representative to the UN, said on Sunday that the Trump administration would sanction Russian companies she alleged were involved in Syria's chemical weapons programme. But the White House contradicted her on Monday, rejecting any fresh sanctions.
"We are considering additional sanctions on Russia and a decision will be made in the near future," Press Secretary Sarah Huckabee Sanders said in a statement.