EU Parliament this week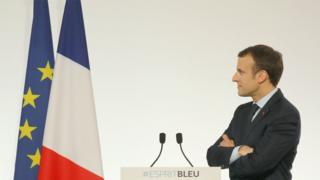 French President Emmanuel Macron is the star guest this week as the European Parliament holds its first post-Easter plenary session.
He will be the fourth European leader to offer his two centimes' worth in an ongoing series of speeches to the assembly about where the EU should go after Brexit.
Like Portugal's prime minister who spoke last month, he may well use the occasion to make his case for eurozone reforms directly to MEPs.
His appearance also comes as joint US, UK and French strikes targeted Syrian government sites in response to an alleged chemical weapons attack earlier this month.
There is also a lengthy list of institutional issues he could address, including a simmering debate among EU leaders over how the next president of the European Commission should be chosen.
MEPs recently threatened to vote down any candidate who is not selected as a lead candidate by one of the assembly's political groups.
Mr Macron – who has not yet aligned his En Marche party with a European grouping – is reportedly much less keen on the idea of group candidates.
In fact, he has argued that the current structure within European groups is in need of a shake-up to better reflect today's political divides.
Here are the main events coming up in Strasbourg this week…
Monday
First up, MEPs will debate two new laws designed to help the EU meet its 2030 greenhouse gas emissions targets.
The first will set new national binding targets for sectors – such as transport and farming – not covered by the EU's carbon trading scheme.
The second will require EU countries to balance emissions and removals from land use between 2021 and 2030.
After this, they will debate a package of new laws aiming to boost levels of recycling.
The measures will introduce new recycling targets for municipal waste, the packaging sector, aging cars and batteries, among others.
MEPs have reached agreement on the targets with national governments and the texts will face a final vote on Wednesday.
The assembly's negotiators will have to defend the fact that the headline targets in the deal are lower than originally proposed by the European Commission.
In the evening, they will debate an advisory report with recommendations for improving the representation of women in the media.
The report, drafted by the women's rights committee, says media firms should allow men and women to "benefit equally" from parental leave, and that companies create databases of women experts to improve female representation on-air.
Tuesday
Emmanuel Macron's speech will start at 09.00 BST, after a debate on EU funding for charities and NGOs that promote democratic values.
After this, the emissions targets debated on Monday will be among the items put to a vote during the day's voting session.
MEPs will also vote on proposals to tighten up the rules on the registration and funding of European political parties and foundations.
After the lunch break, the first debate will be on negotiations to develop a United Nations compact for refugees.
EU foreign policy chief Federica Mogherini is then due to take part in what could be a rather lengthy debate on the situation in Syria.
They will then segue into a general debate on Russia, which will also no doubt touch on the fallout from the nerve agent attack in Salisbury.
The EU expelled its ambassador to Moscow last month after agreeing with the UK that it is "highly likely" Russia was behind the attack.
There will also be a debate on North Korea, previewing the forthcoming showdown summit between Donald Trump and Kim Jong-un.
They will then discuss the recent arrest of two Greek soldiers in Turkey, amid growing tensions between the two countries.
The pair were charged with espionage and illegally entering the country last month after crossing a land border.
Greece says bad weather caused the two soldiers to inadvertently stray across the border, and has called for their release.
In the evening, they will debate a report on EU overseas aid spending and a co-operation agreement between the EU and Australia.
Wednesday
European Council President Donald Tusk is due to speak in the morning's first debate on last month's EU leaders' summit in Brussels.
A busy summit saw leaders back a Brexit transition deal and show solidarity with the UK over the attack on ex-spy Sergei Skripal and his daughter.
They also called for the EU's temporary exemption from new US steel and aluminium tariffs to be made permanent.
With the temporary reprieve set to expire at the start of May and no sign of a solution, the clock is ticking to find a way out of the impasse.
After this they will discuss 53 separate reports on spending during 2016 made by several EU institutions and agencies.
At the lunchtime voting session they will decide whether to sign off the accounts – a process known as "granting discharge".
MEPs will also pass a non-binding motion criticising the European Commission over the controversial promotion of EU official Martin Selmayr.
The cabinet chief to Commission President Jean-Claude Juncker was rapidly promoted to become the body's secretary-general earlier this year.
The draft calls his two-step promotion a "coup-like action" but falls short of calling for Mr Selmayr to be sacked.
After the lunch break, MEPs will get their chance to weigh in on the data scandal surrounding Facebook and British firm Cambridge Analytica.
Their attention will then turn to a new set of EU anti-money laundering laws announced in the wake of the Panama Papers leaks.
The new measures will give EU citizens greater rights to find out the identities of the beneficial owners of companies.
MEPs have reached an agreement on the legislation with member states – the final version will be put to a vote on Thursday.
Also being debated in the afternoon before a vote on Thursday are plans to beef up the EU's rulebook for approving new car types.
The overhaul was announced in early 2016 after Volkswagen admitted fitting "cheat" devices in their diesel cars so they would appear less polluting during official tests.
Under the new system, national testing authorities will be required to check at least one in 40,000 vehicles registered in the country the previous year.
The European Commission will also get powers to carry out its own vehicle inspections and fine companies up to €30,000 for each non-compliant vehicle.
However a Commission proposal to time-limit the validity of type-approval certificates to five years has been taken out of the final negotiated text.
In the evening MEPs will debate new rules on the labelling of organic produce and reported declines in child vaccinations in some EU countries.
Thursday
The final day starts at 08.00 BST with a debate on a report reviewing implementation of European Protection Orders (EPO).
EPOs, which were introduced in 2011, allow court protection orders in criminal cases in one EU country to be enforced in another.
The report calls on participating EU countries to better communicate over the use of EPOs, noting that there is currently a "significant gap" in coordination.
This will be followed by a debate on the Bologna Process – an EU scheme to standardise university teaching standards and the recognition of qualifications.
This will be followed by short debates on this month's human rights motions – on Belarus, the Philippines and the Gaza Strip.
During the voting process MEPs will vote on a motion demanding better protections for journalists after the murder of a Slovak reporter in February.
Jan Kuciak had been investigating alleged political corruption linked to Italian organised crime.
Please note: This agenda is subject to modification at the opening of the session on Monday afternoon.
A guide to the European Parliament's plenary sessions can be found here.