Caroline Nokes: MP's office evacuated over 'powder-like substance'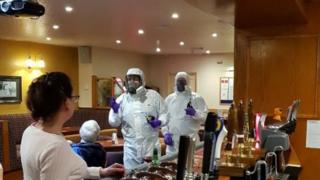 The constituency office of immigration minister Caroline Nokes has been evacuated following the discovery of a suspicious substance.
Police, fire and ambulance services were called at 11:10 BST to the address in Romsey, Hampshire.
The building in Market Place was evacuated but Ms Nokes was not in the building.
The BBC understands that the MP's secretary had opened an envelope containing white powder-like substance.
Romsey Police tweeted about the evacuation:
Emergency workers in white protective suits have also attended the scene in Market Place.
Romsey Town Council has said the town centre is obstructed by emergency vehicles and drivers should avoid the area.